I bet every Harry Potter fan remembers that awkward moment when Fleur Delacour's wedding dress (HPDH 1) appeared to be almost identical with one of Alexander McQueen's creations:
(pictures found here )
I was browsing the Metropolitan Museum of Art site and found out that wasn't a singular case. 
Here we can see Narcisa Malfoy (HPDH 1)
And this is the gown I bumped into: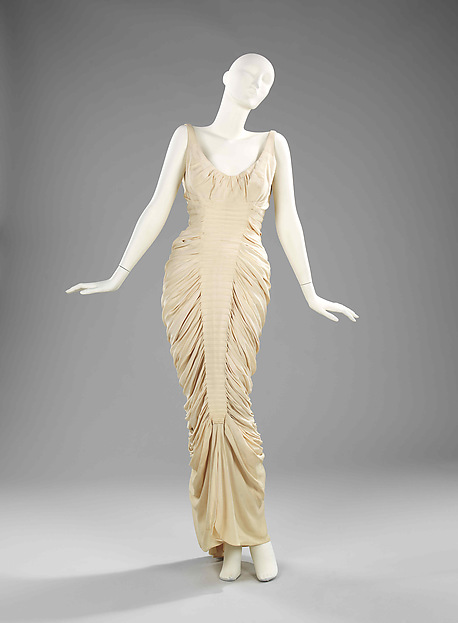 1951-52, "La Sirene", by Charles James. 
Honestly, WTF, Harry Potter designers?
mufb:

That awkward moment when someone hands you a list of missing soldiers, all of whom you had murdered a few months prior.

If I remember reading about this right, Stalin literally just kind of laughed and was like, "Uhhh we've misplaced them, we'll get back to you on that" and he and Molotov shared dark bro chuckles and everyone from outside of the USSR who realized that was fucked up just kind of gave each other significant looks and there was some really awkward silence

Yup!

Stalin's expression:

Now I'm getting to the part in 1943 where the Nazis discover the bodies and accuse Stalin of doing it, and then Stalin accuses the Nazis of doing it, and then the government continues to state that until fucking 1990
(via kriegsrecht)
Propaganda…

What you're looking at appears to be a German soldier getting ready to execute two female Soviet soldiers. This is a doctored photo that was used as propaganda by the Soviets to depict German brutality even further. Joseph Stalin is famous for doctoring photos, having people erased from images after he's had them killed. Photo manipulation has been around for decades, it is not a product of Photoshop.

original:

 
(Source: gunrunnerhell, via kriegsrecht)
This is my favourite poster from Holocaust Memory Day

Translation:

I am Hans and I am 25

On December 43' on Warsaw's Wola (district) I killed 40 people.

Remember about me, to never repeat it.

This is precisely NOT the way to tell uniform fetishists about the Holocaust.

Well surely people will remember about him.
Let me undress you, and then you can kill me as many times as you like ^_^
Because I HAD to make this picture XDDD